Fine cuisine & alpine indulgence at the mountain inn
Mountain huts in South Tyrol have a long tradition. Today, the idyllically situated alpine huts in the highlands of the Rodengo and Luson Alp are highly appreciated by active holidaymakers and couples as holiday domiciles. During your holiday on the alp you can escape from everyday life and find peace, enjoyment and relaxation in the midst of nature.
Alpine breakfast & brunch at the mountain inn
In our mountain inn, a good start to the day begins with a balanced, regional breakfast buffet. Our guests enjoy the rich fresh breakfast buffet with a wide selection of bread rolls, homemade jams, fresh fruit and vegetables and regional cold cuts and cheeses. A large cup of freshly ground coffee will make every morning grouch happy.
If you prefer a hearty buffet to start your new day at the hotel near Bressanone, you may choose among different farmer's breads, along with herb spreads made with home-grown alpine herbs. Such a breakfast on the alp is a very special experience! Here, you may enjoy local products while admiring a wonderful panorama and fill up on energy for your next summit tour – or for a leisurely hike, for example to Rodengo.
Brunch at the Rodengo Luson mountain
On request, we also offer a brunch in our restaurant on the mountain alp. With friends or family: An alpine brunch is a real treat for everyone!
Serve yourself at the rich buffet with all delicacies. For this a glass of sparkling wine is served. You can also enjoy cappuccino with freshly ground beans, chocolate or various teas.
Price for this alpine enjoyment: € 22,00 – reservation requested.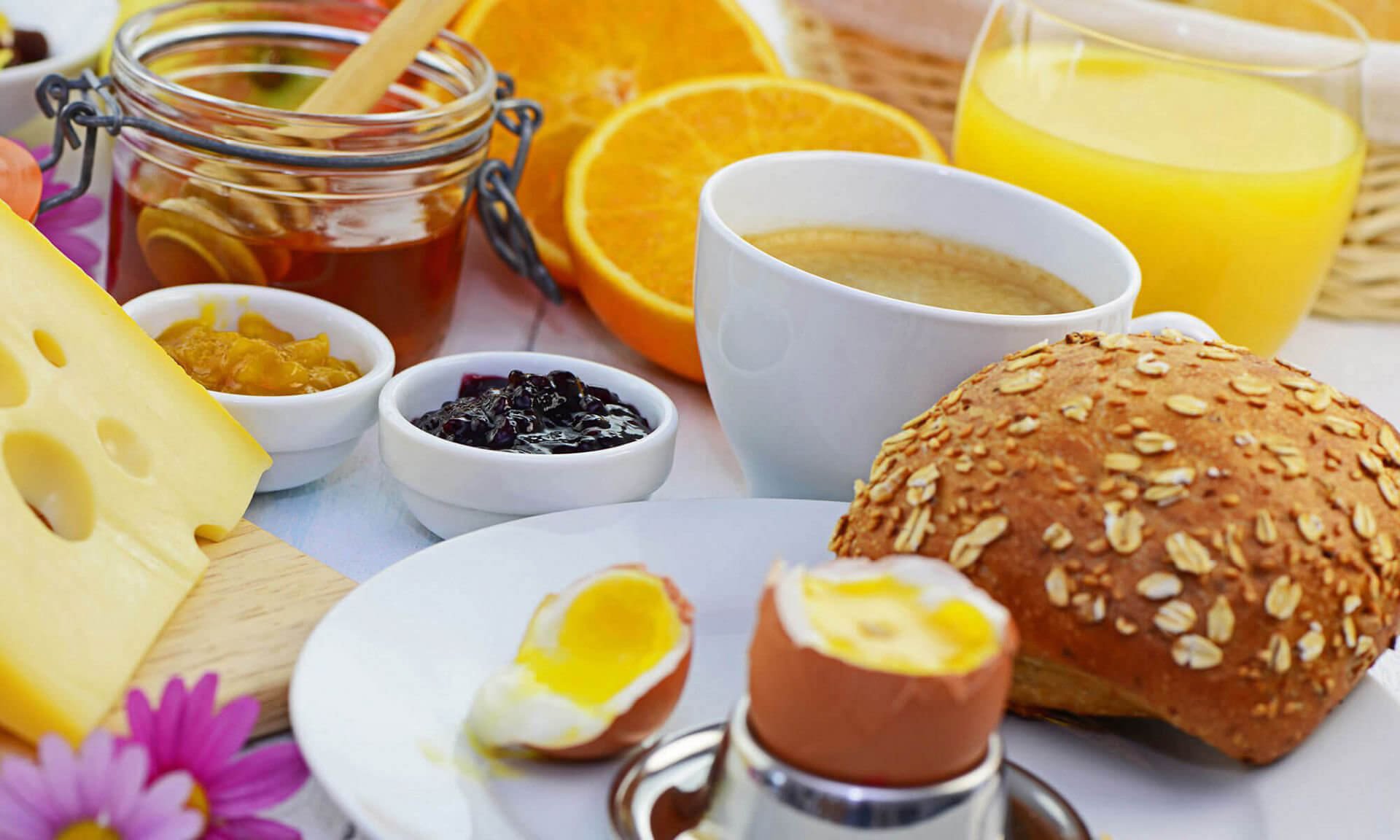 Imagine relaxing amid green alpine meadows and flowering herb gardens near the forest. You sit comfortably in the sun, it is completely quiet, no car to hear, and a delicious scent wafts through the air. That's how we work here at the lodge Oberhauser Hütte, because in our alpine hotel we give foremost importance to culinary experiences.
While you enjoy the scent of the aromatic herbs radiating from our extraordinary culinary creations , our service will be happy to advise you on the choice of wine. Tradition and regionality are important to us, and the exquisite South Tyrolean wines are characterized by an extraordinary variety: from fresh and fruity white wine to strong, elegant red wine.
On request, we will be happy to organize birthday parties or weddings (up to 50 persons) and pamper you and your guests with our specialties. Let's plan a personalized arrangement for a successful day together.
We also have good news for allergy sufferers, who are particularly dependent on the skills and special knowledge of the chefs if they want to dine out. For our head chef David intolerances and allergies are a familiar topic. Please contact us ahead of time so we can adapt to your wishes and prepare accordingly. We do our best to accommodate your food intolerances.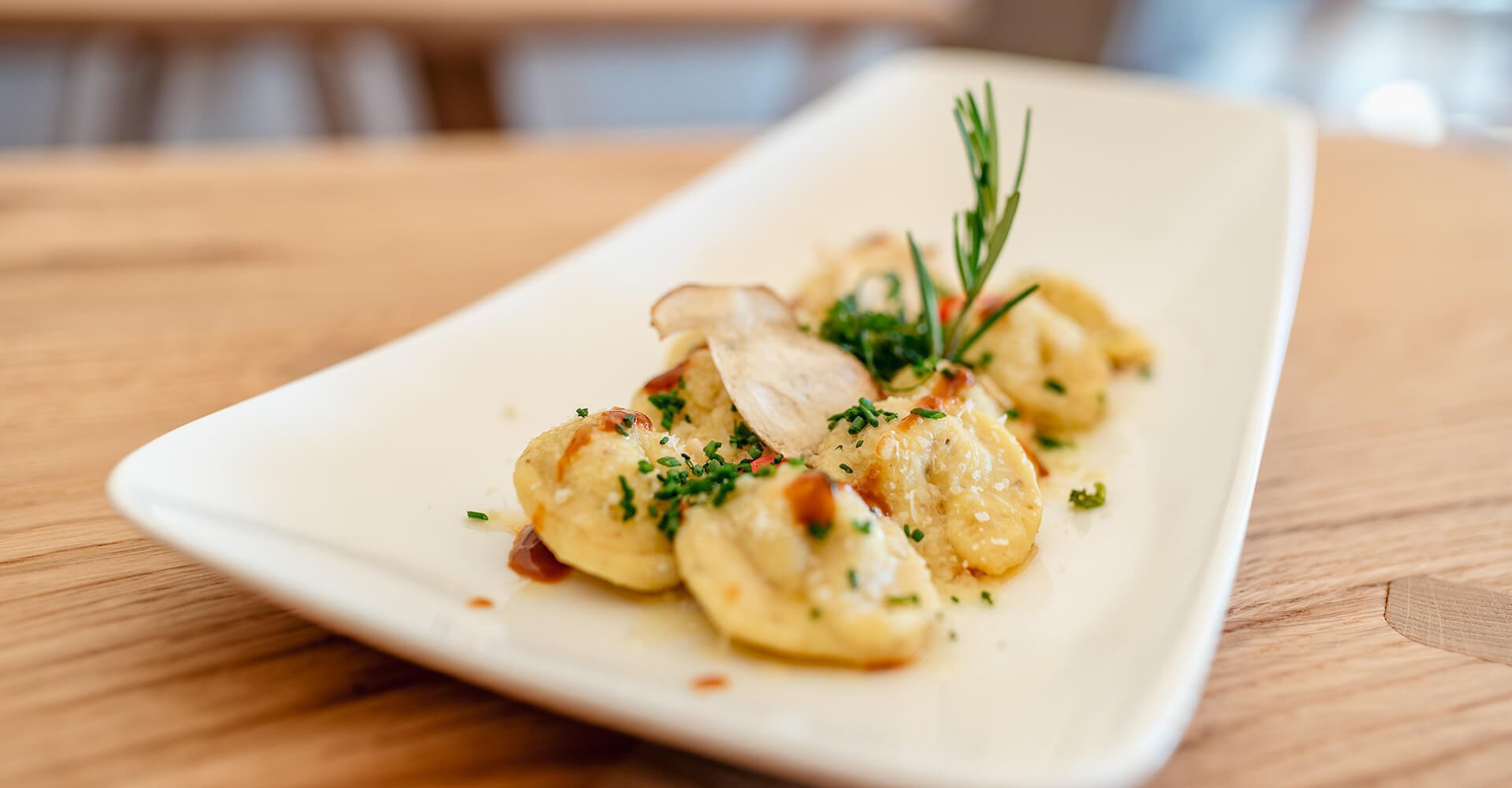 Culinary evenings on the alp
Besides the four-course dinner menus for our house guests, we also organise special culinary evenings for locals and guests. Enjoy with all your senses at the Lodge Oberhauser Hütte. Close your eyes and let your taste buds experience multi-faceted pleasures. Our sensual menus range from sweet, gentle, and spicy to savoury pungent.
You will receive special attention during the gourmet evening from Valentina. She will take care of her guests and round off the excellent gourmet menu in our evening restaurant in the mountains with an exquisite glass of wine. Seduce your partner in a cosy ambience in front of the wonderful, alpine mountain scenery and crown your romantic evening in the evening restaurant with a "Stamperle" brandy or a wonderful dessert: Pure romance!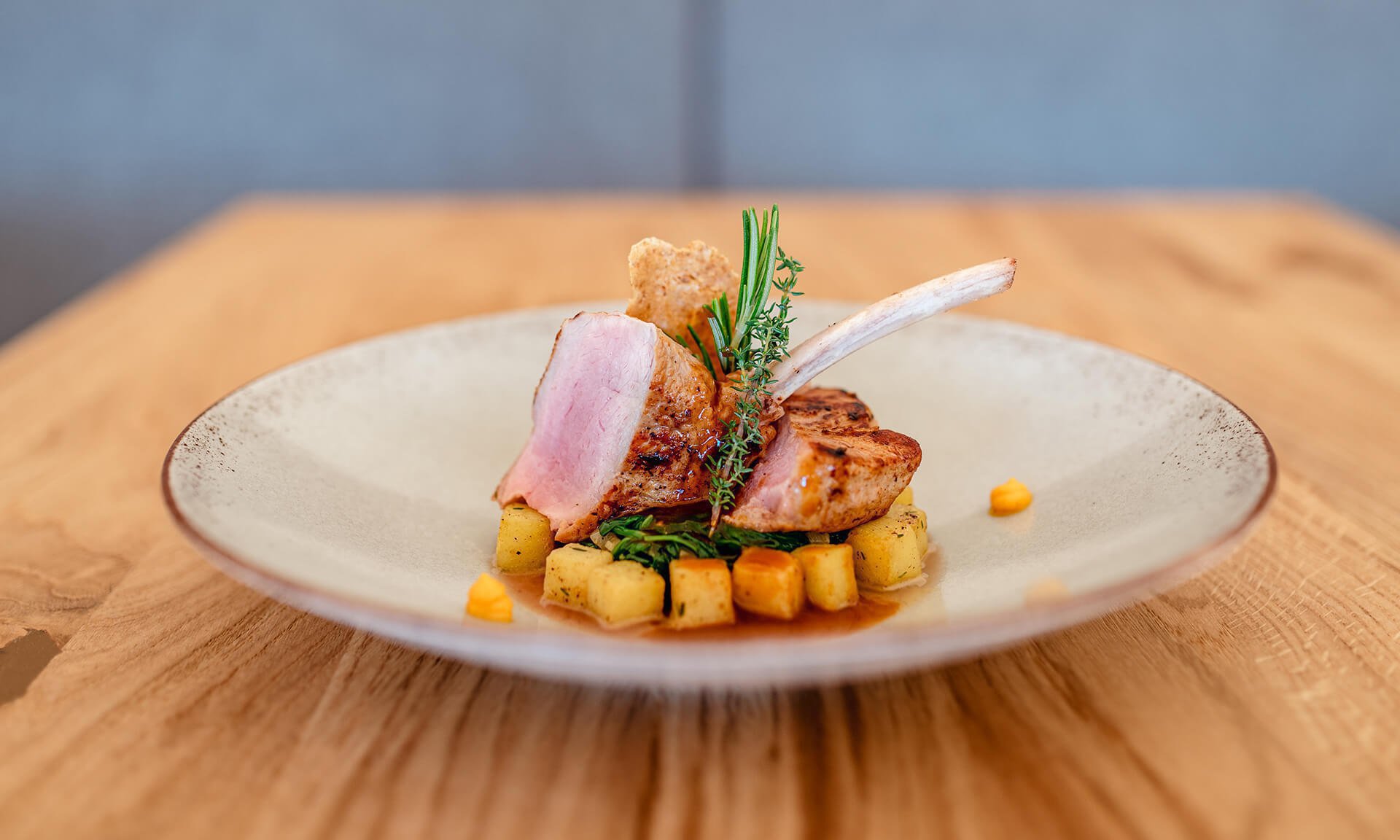 For all guests in our mountain hotel on the Rodengo Alp in South Tyrol we have come up with something very special: our gourmet half-board. If you book one of our seven rooms or one of our three exquisite half-board suites, you will not only enjoy our premium breakfast buffet, but also a four-course meal in the evening.
Our dishes are predominantly made from our farm products. We get these from our fields, and herb garden. Fresh berries and mushrooms grow all around in the woods and our vegetable garden blooms and gives us potatoes, turnips, and fresh herbs. Our gourmet regional cuisine leaves nothing to be desired: We not only serve typical alpine dishes such as ravioli filled with spinach, cheese dumplings, bacon dumplings and apple strudel, but also Mediterranean dishes and international specialties that our head chef David reinterprets.
By the way, the special highlight in summer is our romantic dinner in front of a fantastic mountain backdrop. Don't miss out on this!