Winter fun during your winter vacation in the Alps
Our fantastic location at 1,730 hm – right in the heart of the
Rodengo-Luson Alp
–
offers
you ideal conditions for your winter vacation. Grab your snowshoes and venture into the wonderful panorama of the Dolomites, surrounded by
untouched nature
. In this tranquil and calm landscape, you may find inner peace and balance. If you prefer a faster pace, you may rent not only snowshoes, but also a toboggan. This is a wonderful way to explore the hilly natural landscape of our alp. To warm up, at the Lodge
Oberhauserhütte
we organize weekly
mulled wine parties around the campfire
!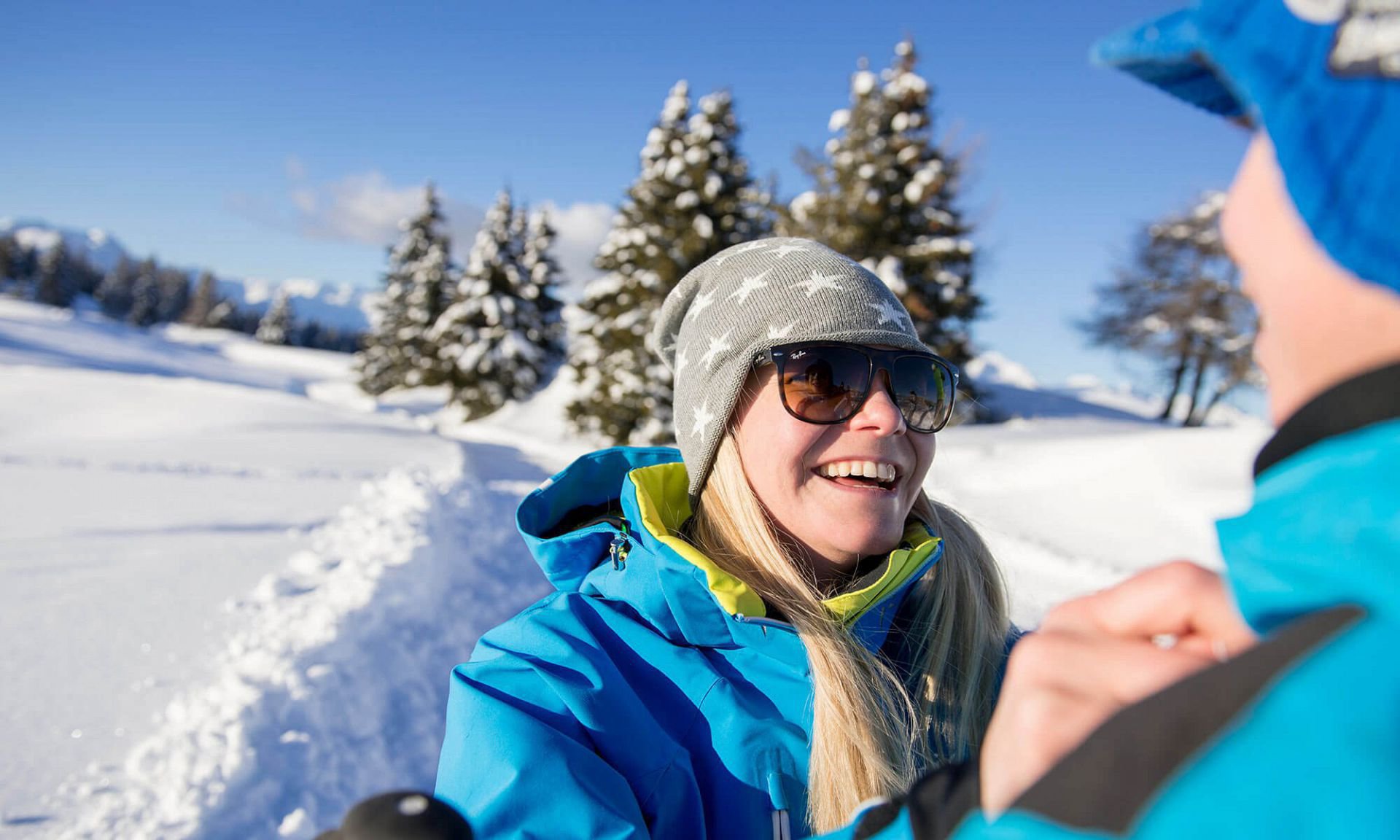 Snowshoeing and winter hiking
in the Dolomites
A winter holiday on the alp is something very special! Here, you may experience winter in all its facets; from the crunching white snow under your shoes to the snow-capped peaks of the Dolomites.
The Rodengo Alp is one of the most beautiful alpine plateaus in South Tyrol and is the ideal starting point for snowshoeing on the mountain meadows. Alone or in groups, you may leisurely walk across the vast plateaus, through snow-covered forests and admire the magic of nature. In pristine surroundings, you may discover the fairy-tale winter landscape.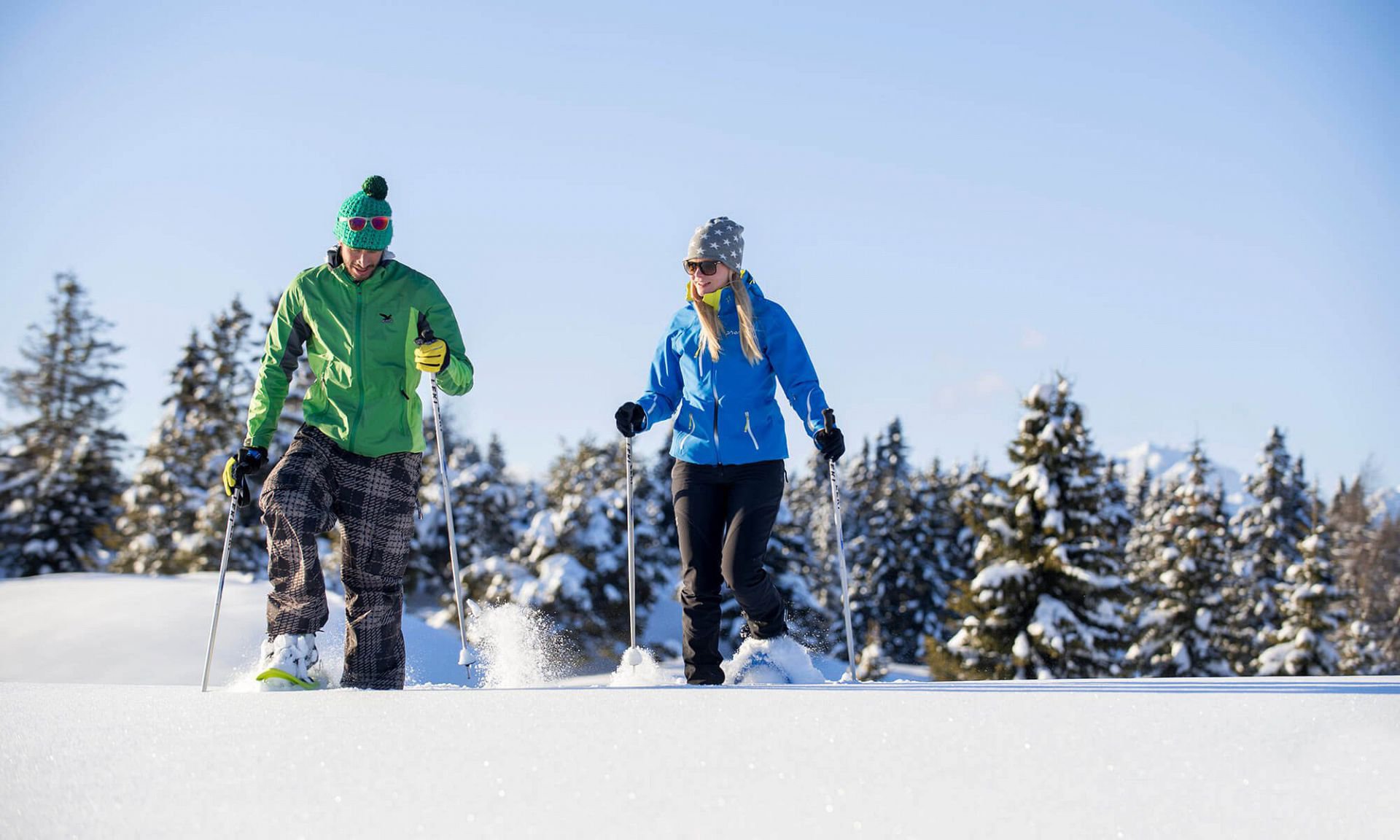 Tobogganing on the Rodengo Alp in South Tyrol
There is so much snow on the Luson Alp, and it invites you to winter hiking and snowshoeing in alpine mountain scenery, but also offers plenty of fun off the slopes. Tobogganing on the alpine plateau is a very special experience for families, as well as for couples: the natural toboggan run on the Rodengo Alp is safe and suitable for young and old.
A particularly romantic experience is offered by an adventurous toboggan run under the full moon. We are happy to rent out the necessary equipment and toboggans to our guests. This guarantees the perfect conclusion to a wonderful day of your holiday at our Lodge Oberhauserhütte.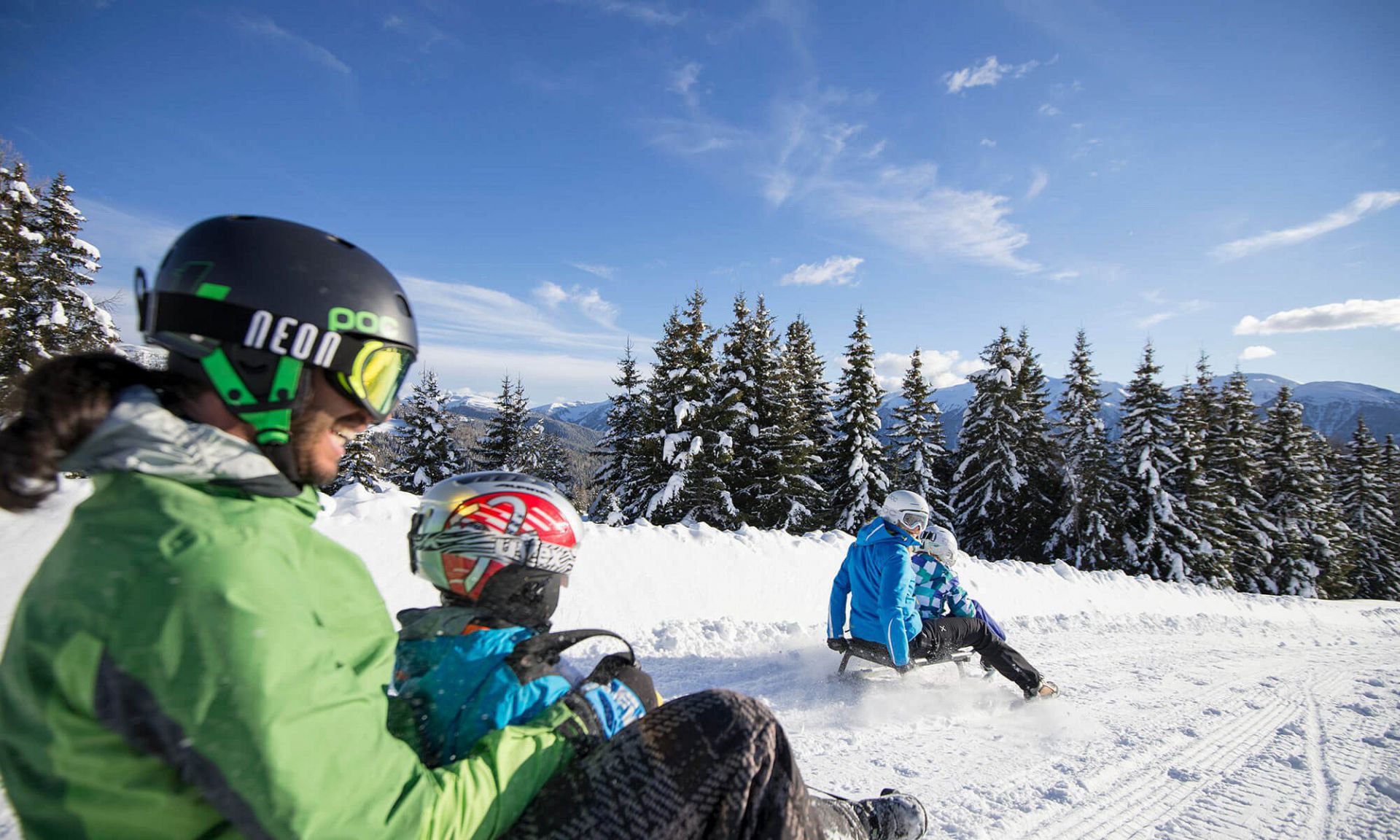 Cross-country skiing on the Luson Alp
Those who spend their active holiday in our mountain lodge hotel in the winter, live directly next to the cross-country ski trail. The surrounding nature, the slightly hilly landscape and the well-groomed trails are perfect for cross-country skiing.
From our alpine cabin, you have direct access to the perfectly groomed panoramic trail Rodengo Alp, which is 15 km long, thus, the longest in the alpine region Gitschberg Val Giovo. You may glide along in the sunshine, past the rugged rock formations of the Eores and Funes Odle, always keeping an eye on the mountains of the Dolomites.
The Rodengo and Luson alpine trails include skating trails and classic trails suitable for beginners and ambitious cross-country skiers. Here, you may improve your cross-country skiing skills! When you return to our lodge in the evening, you will not only find a delicious four-course meal, but a heated storage room where you can safely store your cross-country skis. The comfort of our guests is very important to us.